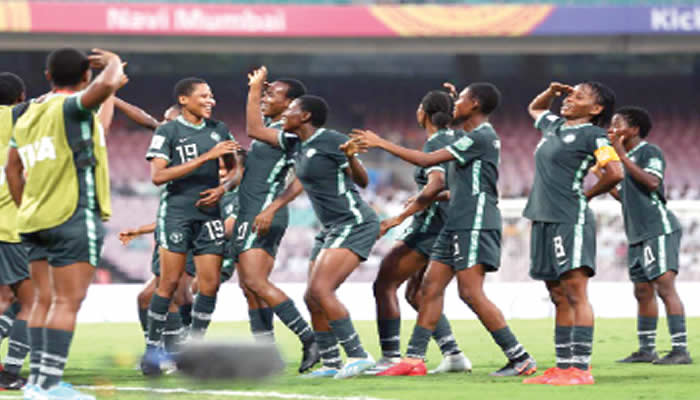 News
Trending
We begged for money to celebrate Christmas – Flamingos players
Female Nigerian football players lament the NFF,s refusal to pay them during the Yuletide making them beg for money.
Seventy-two days after beating Germany to finish third at the U-17 Women's World Cup in India, players and officials of the Flamingos are yet to receive their allowances and match bonuses with some of the players saying they virtually went begging for money to celebrate the Yuletide.
Our correspondent learnt that while their camping allowances from February 6 to June 5, 2022, had been paid, the team's bonuses for qualifying matches they played against Congo, Egypt and Ethiopia were yet to be paid.
The World Cup bonuses for the matches against Chile, New Zealand, U.S.A, and Germany had also not been paid to officials and players of the Flamingos.
One of the players, who spoke on condition of anonymity for fear of being victimised, said she and her teammates begged for money to celebrate Christmas and New Year.
"The NFF is yet to pay us our match bonuses and some other benefits and these are what we need to survive," the player said.
"Since we came back from India, we haven't heard anything and we are already losing hope. Some of us are not as privileged as other kids and we had to beg for money to celebrate Christmas and New Year."
Another Flamingos player added, "Christmas was hell for me because I was broke. This is because aside from the camp bonuses that were paid to us, we are yet to receive other bonuses and it is discouraging.
"Football is everything I know and it's what I intend to use to take care of myself, but unfortunately we are still owed our match bonuses and other benefits from the qualifiers for the World Cup. I sent messages to relatives asking them to send me money to celebrate Christmas, but in reality, I should have been the one sending them money after playing at the World Cup.
"We learned that some individuals have redeemed their financial pledges to the team but we are yet to receive them from the NFF.
"President of the NFF, Ibrahim Gusau and Alhaji Balele both promised us $10,000 each for winning the third-place match, while the founder of Naija Ratels, Paul Edeh, also promised the team the sum of N3.1m. We hope the Presidency will help us because some of us are practically begging for money."
Our correspondent also gathered that players of the Falconets, who crashed out from the the quarter-final stage of the  2022 U-20 Women's World Cup in Costa Rica, were also yet to be paid.
One of the outstanding players in the squad said, "Since I returned from the World Cup in August I haven't visited my home state because nobody will believe a World Cup player can't even buy socks for her friends.
"We played eight qualifiers to qualify for the World Cup and we were given just N50,000 each for qualification. At the World Cup proper, we were paid just $500 as camp allowance, while the NFF pledged to pay us our bonuses. As I speak with you, we haven't heard from them. I couldn't send anything home to my family for the Christmas and New Year celebrations.
"After we slept on bare floor at the Istanbul airport in Turkey, we were given just N40,000 each for transportation by road to our various states amid the insecurity in the country. They couldn't even pay for our flights back home. And now they have refused to pay us our money."
The General Secretary of the NFF, Dr. Mohammed Sanusi, declined to comment on the matter, and directed our correspondent to the federation's Communications Director, Ademola Olajire.
"They have not been paid but they will be paid," Olajire said when contacted.  "I don't work in the accounts (department) but I know that they will be paid whatever they are owed."