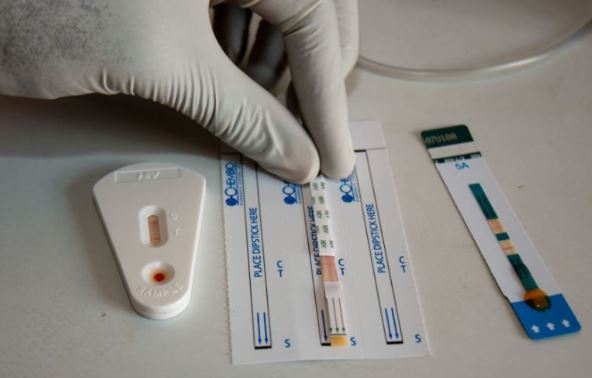 Health
Trending
People living with HIV for over 30 years narrate ordeals
HIV patients tell their story
Paul Kidd, a 59-year-old activist and lawyer who lives north of the Australian city of Melbourne, said he was first diagnosed with HIV in 1991 but had probably already had it for several years.
Although he asked for a test in 1986, he said his doctor advised against it because "at that time there were no treatments and the political climate was very bad for people with HIV, with open calls for us to be quarantined, criminalised or otherwise mistreated".
"My diagnosis was hard to accept but not really a surprise, as an ex-partner of mine had died of AIDS in 1988," he said.
"Many people I knew and loved died."
After his diagnosis, Kidd started on an antiretroviral drug called AZT, which he said "made me very sick" but which he credits with saving his life.
Now he takes just one daily pill with no side effects.
"One thing that hasn't changed much is HIV stigma," he said, particularly in some regions.
"Uganda and Ghana are going in a terrible direction, and people with HIV in Russia and Eastern Europe have a much harder life than I ever did," he said.
"I know I am lucky to still be alive and the volunteer work I do is my way of honouring the memory of those who aren't with us any more."
– 'A little miracle' –
Pascale Lassus, a 62-year-old retiree in the southwestern French city of Bayonne, said she unknowingly contracted HIV in 1984 from her then boyfriend.
She did not find out until a decade later, when she was tested after falling ill with bronchitis.
"I was stunned," she said.
"I had been living normally until then and my immune system went haywire."
Then her six-year-old daughter tested positive.
"The doctor told me she wouldn't make it through adolescence. I was totally devastated."
The only treatment available was AZT, which had "horrific" side effects, she said.
"I had to wake my daughter up at night because it had to be taken every four hours."
But a new three-drug regimen in 1995 changed things.
"Today, my daughter is 35 years old," she said.
"She was able to have a child who is HIV-negative — a little miracle."
Grissel Granados, a 36-year-old deputy director of a women-focused non-profit organisation, has had HIV all her life.
When she was born in Mexico in 1986, her mother required an emergency Caesarean section, contracting HIV during a blood transfusion.
Her mother then "unknowingly breastfed me and that's how I acquired HIV", said Granados, who now lives in Los Angeles.
It wasn't until five years later, "when my dad started getting sick" that the family learned it had HIV, she said.
Her father died shortly after being diagnosed. Her mother was pregnant at the time but was advised not to breastfeed.
"So my sister, thankfully, is HIV-negative," Granados said.
Despite getting cancer at the age of 10, Granados said she "has had a very healthy life".
But she feels that people who have had HIV since birth are too often forgotten or ignored.
"We're an asterisk at best. For the most part, we are not represented in the history of long HIV," she said.
– 'Discriminated against' –
Joel Vermont, a 58-year-old living in the eastern suburbs of Paris, found out he had HIV in 1992.
"I was 27. It felt like being hit by a falling building," he said.
When he started on AZT, the "abominable" side effects led to him losing nearly 30 kilograms (65 pounds).
Then the new three-drug regimen "didn't work on me".
"I switched to alcohol," he said.
"My viral load exploded. I developed lung disease and early-onset cancer.
"I ended up in hospital, where I was in a coma for 45 days. When I woke up, I couldn't walk and I was paralysed in one arm."
After being "discriminated against" at work, he spent eight years on sick leave before winning a court case.
"For years, I heard I was going to die. Then all of a sudden I was told that I had to live," he said.
"I needed psychological support to accept that."